Security cameras (Überwachungskamera) are used for recording equipment. They are used in a wide range of applications. Generally, security cameras are used in banks, offices, and large shopping malls. There are many types of cameras, different types of applications, functions and functions are different, and the development of the camera is more and more high-tech, from the ordinary video to the current high-definition picture quality. Nowadays, European families usually install security cameras because they can improve the quality of safety, especially when there are old people in the family.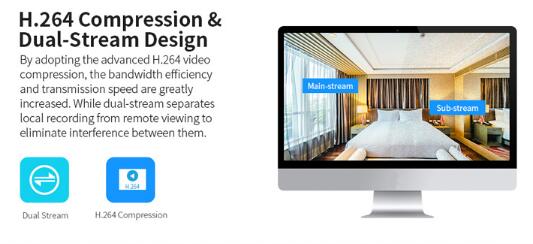 Home monitoring uses network technology to connect video, audio, alarm and other monitoring systems installed in the home, and saves and sends useful information to other data terminals through intelligent processing, such as mobile phones, notebooks, and 110 alarm centers. As people's awareness of security increases day by day, more and more people, especially those who travel frequently, are considering installing a home monitoring system. Commonly used home monitoring systems typically include a set of security cameras, monitors, and a central storage unit (DVR) that multiplexes video inputs prior to storage. PCs with embedded DVRs can drive basic analysis functions as well as monitoring and storage. The analysis and alarm functions of the basic home monitoring system are usually limited to simple motion detection and time or date stamping. The HMI (Human Machine Interface) is limited to DVR devices. When connected to a PC, the control and monitoring functions are greatly improved.
The home security camera should be compact in design, not to be noticeable because of the size of the camera, and should not hinder the lives of family members.
To be easy to fix
Home security cameras need to be easy to install and fix, probe accessories must be complete, no need to buy some extra accessories to help fix.
Best wireless
The camera is preferably wireless and does not need to be routed everywhere. The wireless surveillance camera can be placed at will, without wiring troubles. The only requirement is that you need to have a wireless router and the location where the surveillance camera is placed is within the coverage of the wireless router.
Software installation, the simpler the better
Since the home security camera needs to have certain computer knowledge in setting up (AI04 only needs to install the mobile APP), it is very important for the use of family members to reduce the trouble of setting up and installing.
Remote access via the internet
The camera is preferably able to access remotely via the Internet. For example, if you are in the office, you can view the real-time monitoring screen of your home at any time through your computer. If you can see the monitoring screen anytime, anywhere through your mobile phone, it is the best choice
For a few key points, refer to the AI03 part configuration, no need to purchase additional accessories and can be installed anywhere.
I believe that everyone has a certain understanding of the purchase of home security cameras (Überwachungskamera), in the future when purchasing, you can refer to these methods introduced by Topwelltech to purchase. In fact, there are many types of security cameras. The purchase must be based on the actual situation. The price and quality of different brands and types of cameras are different. This information can also be used when opening up the market.